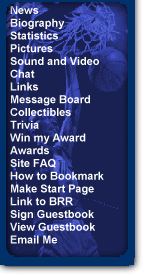 How to Use the Chat Feature
When you load the chat room screen, the Log On screen will appear.
Type in your Nickname in the space provided. (you may choose any one)
Leave the Room Name label alone. It should say "BRuss".
After the Applet loads to the chat screen (it may take awhile), you can start typing your messages. Note that other users' names are on the right side.
To send a private message to certain users, you can choose from one of the options in the drop down menu to the right of the space in which you type.
To choose sound and format options, click the options tab on the top of the applet. You will be prompted with a list of checkboxes containing different options you can select from.
To leave the room, just move on to another website or close your browser window. Your profile will be removed as will your name from the listing.


(NOTE: Occasionally, it will say that your name requires a password. If this screen comes up, please choose another Nickname.)

General Rules

No swearing or offensive material
Please do not provide links to distasteful or offensive websites
Remember that I reserve the right to remove any users' IP addresses who do not comply with these rules




Questions? Comments?
If you have a question related to the chat room or comments about it, please drop me a line!

Chat provided free of charge by: