Menu
Links
Pictures
The Move
Games
Stats
Biography
Sign Guestbook
View Guestbook
Challenge
Movies
Audio
Email
Movie of the Week...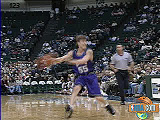 Jason Williams takes the behind-the-back pass from Chris Webber and returns it with a no-look pass of his own that Webber finishes off with a reverse slam. 856k avi
Message Boards Added
Ok this da deal...... I was viewing this sites guestbook, and i saw people trash talkin.. sooo I went out and got a message board for you all to say and do whatever you want! JWP Message Boards .

Last Game
In the last game the Kings played of their short playoff run was a fast pace game between the Sacramento Kings and the Utah Jazz. Jason Williams only played 25 mintues and only had 2 points. Vlade Divac missed a hook shot at the buzzer to send Game 5 of the series into OT, where the Kings committed 5 turnovers and Jazz took over to advance to the 2nd round.