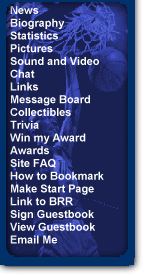 1997-98 NOTES
Russell played in all 82 games for the Jazz and was used primarily in a reserve role, making just seven starts and starting 81 games the previous season. He provided scoring punch off the bench, averaging 9.0 ppg to rank fourth on the team even though he played over 300 minutes less than the previous season. Russell also contributed 4.0 rebounds, 1.2 assists and 1.10 steals in his 27.1 minutes per game, ranking fourth on the team in both rebounds and steals. He shot .430 from the field, .766 from the foul line and .341 from three-point range, where his 73 treys topped the team. He scored in double figures 30 times and twice tallied a season-high 21 points, at Toronto on March 3 and at Phoenix on April 17. He grabbed a season-high nine rebounds at Charlotte on March 18. Russell was Utah's third-leading scorer in the playoffs, averaging 11.0 points per game as he started 13 games and came off the bench in seven others. He ranked second on the team with 4.7 rebounds per game and third with 1.05 steals per game, and he led the club with 23 three-pointers. He started all six games of the NBA Finals against Chicago, averaging 8.8 points, 5.0 rebounds and 1.17 steals per game and leading the team with six treys.

1996-97 NOTES
Russell enjoyed a breakout season in 1996-97, his fourth year with the Jazz. He started 81 games (missing Jan. 17 at Vancouver becasue of bruised right knee) and averaged 10.8 ppg, more than double his previous season-high. He also averaged 4.1 rebounds, 1.5 assists and 1.59 steals in 31.2 minutes per game, sinking a franchise-record 108 three-pointers and shooting .409 from three-point range to rank 13th in the NBA. He finished fourth on the team in scoring, third in rebounding and second in steals. He scored a career-high 23 points in a 99-94 victory over Portland on Dec. 26, one of 49 double-digit scoring performances. He hauled down a career-high 13 rebounds in an 88-87 win at Dallas on Nov. 16, handed out a career-high six assists in a 113-100 victory at Boston on March 19 and tied his career-high with five steals in a 114-100 triumph over Golden State on April 6. Russell started all 20 playoff games for Utah, averaging 12.3 points, 4.6 rebounds, 1.35 assists and 1.05 steals while nailing a team-high 36 three-pointers. He scored 17 points, sinking five three-pointers, in Game 6 of the NBA Finals against the Chicago Bulls.

1995-96 NOTES
Russell's role continued to diminish in his third season with Utah. He played just 577 minutes in 59 games, both career lows, sitting out 23 games as a DNP-CD. His averages of 2.9 points and 1.5 rebounds per game also were career lows, as was his .394 field goal percentage. Russell started nine games early in the season, averaging 7.6 ppg and shooting 24-for-40 for .600 during that stretch. He sank 6-for-13 for .462 from three-point range in that span and netted a career-high 19 points at Houston on Nov. 30. He also finished on a strong note, averaging 8.5 ppg on 50 percent shooting and netting 4-for-5 on treys and 9-for-10 from the line in the final three games of the regular season. He also grabbed a career-high nine rebounds at Vancouver on April 18. He played well in the playoffs, ranking as Utah's fourth-leading scorer and top scorer off the bench at 9.6 ppg while averaging 25.5 mpg in 18 games. His shooting improved dramatically to .468, and he posted playoff career highs of 24 points and 10 rebounds in Game 3 of the Western Conference Finals against Seattle.

1994-95 NOTES
In his second year in the NBA, Russell started 15 games for the Utah Jazz but sat out 20 others because of the coach's decision. Overall, he averaged 4.5 points and 2.2 rebounds in 13.7 minutes per outing. Most of his minutes came as a starter early in the campaign, before David Benoit established himself as the starter at small forward and before Adam Keefe came on as a solid backup at the position. Russell set a career high with 17 points against the Milwaukee Bucks on January 3. His other season highs included 9 rebounds, 4 assists, and 5 steals. He shot .437 from the floor, .295 from three-point range, and .667 from the free-throw line. In the Jazz's first-round loss to the Houston Rockets, Russell saw action in two of the five games and hit 4 of 7 shots.

1993-94 NOTES
Selected by the Utah Jazz with the 45th pick of the 1993 NBA Draft, little-known Bryon Russell from Long Beach State University proved to be one of the league's most pleasant rookie surprises. Not only did Russell make Utah's opening-day roster, but he also became a major contributor to a veteran team. As a senior at Long Beach State, Russell had averaged 13.2 points and a team-leading 6.7 rebounds. He was named to the 1993 Big West Conference All-Tournament Team after scoring 20 points against Cal State-Fullerton, 12 against the University of Nevada-Las Vegas, and 16 in the finals against New Mexico State University. A hustling, 6-foot-7 forward, Russell grabbed a spot in Utah's starting lineup when David Benoit went down early in the year with a hamstring injury. Russell performed so well that Coach Jerry Sloan kept him as a starter even when Benoit returned. For the season, Russell logged 48 starts in 67 appearances and averaged 5.0 points and 2.7 rebounds in 16.7 minutes per game. In February he participated in the inaugural Rookie Game at the NBA All-Star Weekend in Minneapolis, scoring 7 points in 15 minutes. Russell tallied a season-high 15 points on 7-of-8 shooting against the Philadelphia 76ers on November 19, and he notched his rebounding high with 9 boards against the Los Angeles Clippers on February 19.