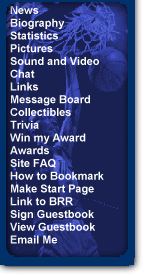 1999 Playoff Multimedia
\vs. Trail Blazers
930K AVI
QuickTime
Stockton steals the JR Rider pass and gives it to Bryon for the breakaway dunk.
vs. Kings
904K AVI
QuickTime
Coming up big in the final minute of regulation, he sticks the clutch trey from the corner to send the game into overtime.
1.02M AVI
QuickTime
Ostertag erases the Abdul-Wahad layup attempt, starting the Utah break which ends with a flying one hand jam by Bryon.
890K AVI
QuickTime
Karl Malone's reverse layup falls off the rim, but Bryon is there to finish the play with the follow dunk.
Miscellaneous Multimedia
1.23M AVI
QuickTime
Stockton drives and dishes to Bryon, who steps up and drains the clutch three pointer with 4.9 seconds remaining to beat the Heat.
844K AVI
QuickTime
Bryon makes the most of a Shandon Anderson miss by grabbing the rebound and slamming it down.
902K AVI

N/A

Bryon finishes off a fastbreak with an awesome two-handed slam in the Jazz's win over the Bulls in Game One of the '98 NBA Finals.
Audio
161K WAV
RealAudio
The Delta Center goes nuts when Bryon hits the three to put the Jazz up three over the Heat with 4 seconds left on March 23.