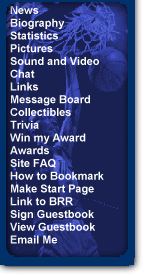 Win the Bryon Russell's Realm "Tight Site" Award!

If you own and maintain a Utah Jazz or basketball-related website, you can sign up to win the "Tight Site" award. I will personally judge your site and determine if it deserves to win the award. The following criteria will be looked at if you sign up:
Design - is it eye catching? Does it make me want to come back? Easy to navigate?
Legibility -is it easy to read? (i.e. red/blue combinations and no flashy backgrounds covering text)
Content - does it contain anything more than the average bball website, or just some stats and scores?
Frequently Updated - Will I see the latest stats and scores or something from the 97-98 season?
Time/Effort - Did you spend some time on it or throw it together in a week?
Sign Up!